Overall, the groundwater in Idaho has mostly been found safe for human consumption and other beneficial uses at most of the Statewide Program sites. However, some sites have concentrations of one or more constituents that exceed the safe levels (known as Maximum Contaminant Levels [MCLs]) that have been established by the U.S. Environmental Protection Agency (EPA) for public water systems. Southern Idaho has a higher percentage of these sites than central and northern Idaho. Nitrate, arsenic, uranium, and fluoride are the main constituents found to exceed MCLs.
Nitrate
Nitrate is the most commonly-occurring constituent with elevated concentrations and MCL exceedances. Nitrate in Idaho's groundwater is considered to be caused by activities on the land surface (agriculture, wastewater applications, and septic systems). Five percent of the Statewide sites have had nitrate concentrations over the MCL of 10 milligrams per Liter (mg/L), and 33% of the sites have had impacted levels of nitrate (2 to 10 mg/L). Nitrate trends have been studied using three approaches:
Hydrogeologic Subareas (as defined by the IDWR)
Nitrate Priority Areas (as defined by the Idaho Department of Environmental Quality)
Annual Sites
Nitrate has increased in a number of areas—mostly in southern area. The most significant increasing trends have been documented in four Nitrate Priority Areas: Twin Falls, Ada/Canyon, NE Star, and Marsing.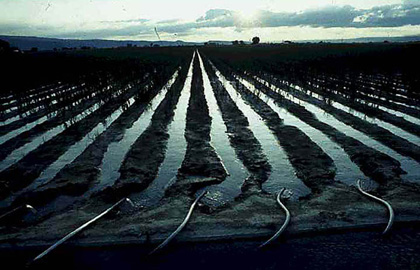 Arsenic
Arsenic has also been studied for patterns and trends. The MCL for arsenic in groundwater is 10 parts per billion. Arsenic has exceeded the MCL at 15% of the Statewide Program sites. Arsenic concentrations in Idaho's groundwater are considered to be naturally-occurring. In Idaho, arsenic occurs commonly in groundwater in certain areas in the southern part of the state, such as the Weiser area (southern Washington County), the Treasure Valley (Ada and Canyon Counties), and Twin Falls County.
Uranium
Uranium has more recently been studied for patterns and trends, particularly in the Treasure Valley. The MCL for uranium is 30 parts per billion and approximately 20% of wells sampled for the Statewide Program in Ada and Canyon Counties have exceeded this MCL. Uranium concentrations in Idaho's groundwater are considered to be naturally-occurring. See the publications page for reports on uranium.
Fluoride and Gross Alpha
Other constituents that have results that exceeded the MCLs are fluoride and gross alpha.
Pesticides
Pesticides have also been detected at some Statewide sites, with Atrazine being the most commonly detected compound. Fortunately, the concentrations of the detected pesticides have been well below any MCLs or Health Advisories.