The Groundwater Quality Protection Act, passed by the Idaho State Legislature in 1989, authorized a comprehensive approach for maintaining and improving Idaho's groundwater quality. The Act resulted in the formation of the Groundwater Quality Council, which developed the Idaho Groundwater Quality Plan in 1992. The monitoring component of the plan outlined the need for statewide, regional, and local groundwater quality monitoring.
In 1990, the Idaho Department of Water Resources (IDWR), with help from other state and federal agencies, began the Statewide Groundwater Quality Monitoring Program. The Statewide Program provides valuable information about Idaho's groundwater quality to private citizens, consulting companies, and governmental entities—as well as provides data for the Environmental Data Management System (EDMS) database.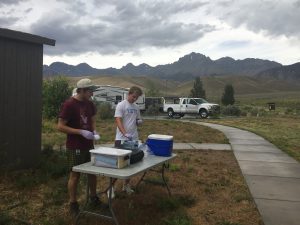 Objectives
The objectives of the Statewide Program are to:
characterize the groundwater quality of the state's major aquifers,
identify trends and changes in groundwater quality within the state's major aquifers, and
identify potential groundwater quality problem areas.
Responsibilities
The Statewide Groundwater Quality Monitoring Program (Statewide Program) began in 1990 with a limited prototype network of 97 monitoring sites. In 1991, the funding was increased significantly both from the State of Idaho and the Federal government (USGS). This funding enabled the State to sample about 400 sites to the network each year from 1991 through 1994. By the fall of 1994, the Statewide Program network included over 1,500 monitoring sites.
Every year, about 250 monitoring sites are sampled. Most sites are sampled once every five years. Water quality results include: nutrients, common ions (e.g. calcium, magnesium), trace elements (e.g. iron, arsenic, uranium), pesticides, and emerging contaminants.