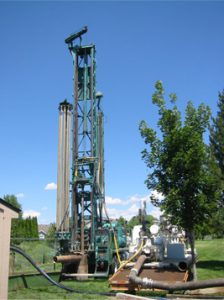 IDWR conducted a detailed investigation of North Ada County to obtain a better understanding of the hydrogeology of the area with respect to the groundwater resources available for allocation. The project resulted in a comprehensive report that summarized the hydrogeology of North Ada County and provided a detailed water budget to be used in support of water management decisions in the area.
North Ada County is currently undergoing intense land and water resource development in an area that has been historically undeveloped, and the groundwater resources are not fully understood. Groundwater is currently being sought as the water supply for the large development projects proposed in the area.
The North Ada County Hydrogeologic investigation was conducted as one technical component to the Treasure Valley Comprehensive Aquifer Planning and Management Program (CAMP). The water management plan for the Treasure Valley is designed to address water supply and demand issues looking out 50 years into the future. This investigation provided the technical information to characterize the surface and groundwater resources in the North Ada County portion of the Treasure Valley.
Funding for this project was based on the 2008 Legislature approval of House Bill 428 and House Bill 644 establishing the Statewide Comprehensive Aquifer Planning and Management Program (Idaho Code § 42-1779) and the Aquifer Planning and Management Fund (Idaho Code § 42-1780). The timeline for this project was from 2009 through 2012.
Purpose and Objectives
The purpose of this project was to provide a scientific foundation for management of the water resources in North Ada County. The study resulted in the development of a comprehensive technical report of the groundwater systems in North Ada County for use in water management decisions of the area. Specific objectives included:
Aquifer Characterization – Delineate the extent and thickness, hydrogeologic properties, and hydrogeologic boundaries of the various aquifers in the area.
Hydrologic Data Collection – Develop a groundwater monitoring network of existing wells, installation of long term monitoring wells, measure surface water gains or losses in the area, and determine current water usage and demand rates for the area.
Water Quality – Collect water quality samples to determine general water quality and potential recharge rates in the aquifers.
Public Involvement – Convey information about regional water resources and knowledge gained from the study to state and local decision-makers, the professional community, and the general public through published reports and public meetings.