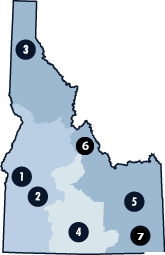 Locations
IDWR has multiple offices throughout the state to serve you, including full-service regional offices where you can receive assistance with water management and adjudication matters.
Contact and location information for each office is listed below.
1.

 State Office IDAHO WATER CENTER, 322 E FRONT ST STE 648, BOISE ID 83702-7371

Parking is located under the building with the entry at Front Street and Avenue A. The first hour is free. Each additional hour is $1.00 with a daily maximum of $10.00. Click here for a map of the Idaho Water Center parking.
2.

 Western Regional Office 2735 W AIRPORT WAY, BOISE ID 83705-5082
3.

 Northern Regional Office 7600 N MINERAL DR STE 100, COEUR D ALENE ID 83815-7763
4.

 Southern Regional Office 650 ADDISON AVE W STE 500, TWIN FALLS ID 83301-5858
5.

 Eastern Regional Office 900 N SKYLINE DR STE A, IDAHO FALLS ID 83402-1718
6.

 Salmon Field Office 1301 MAIN STREET, STE 10, SALMON ID 83467-4435
7.

Preston Field Office 325 EAST 600 SOUTH, STE 300, PRESTON ID 83263-4921