Current Activity
Can I still file a Claim?
Water users can still file "Late Claims" by submitting a completed Motion to File a Late Notice of Claim and Notice of Claim, directly to the Idaho Water Adjudications Court.
Claims submitted online or mailed directly to IDWR cannot be accepted.
Recent Activity
May 1, 2021:
IDWR filed the Spring 2021 Director's Report of Late and Miscellaneous Claims for Water Rights. This includes a list of recommendations to late claims that had previously not been reported to the court, and a list of Water Rights not claimed in Basin 95. The recommendation for these unclaimed rights is disallowance.
February 26, 2019:
IDWR filed the Director's Report for Basin 95: Part 2 with the CSRBA court. Copies of individual recommendations were mailed to the claimants of record. The complete Director's Report for Basin 95: Part 2 can be found at the county courthouses in Coeur d'Alene and Sandpoint as well as all IDWR offices.
Upcoming Meetings & Events
Important Dates
Spring 2021 Director's Report of Late and Misc. Claims in the CSRBA
May 1, 2021: Filed Spring 2021 Director's Report of Late and Misc. Claims in the CSRBA including rights not claimed in Basin 95
July 2, 2021: Objection Deadline
August 31, 2021: Response Deadline
October 19, 2021: Hearing on Uncontested Recommendations
Past Important Dates
August 2, 2018: Filed Director's Report Basin 95: Part 1
February 26, 2019: Filed Director's Report Basin 95: Part 2
April 30, 2019: Basin 95: Part 1 Objection Deadline
July 1, 2019: Basin 95: Part 1 Response Deadline
July 15, 2019: Basin 95: Part 2 Objection Deadline
September 17, 2019: Basin 95: Part 1 Hearing on Uncontested Recommendations
September 18, 2019: Basin 95: Part 2 Response Deadline
November 19, 2019: Basin 95: Part 2 Hearing on Uncontested Recommendations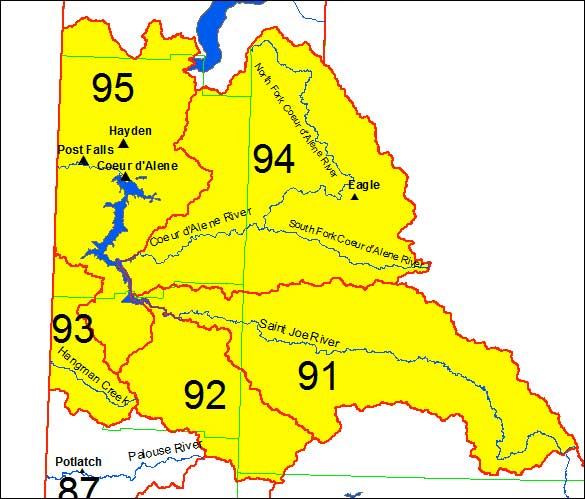 Related Information
Basin 95: Parts 1 & 2 Documents
CSRBA Late & Miscellaneous Directors Report Documents (Basin 91-95)