Importance of Landsat for Water Resources in Idaho
Landsat 8 was launched on February 11, 2013, and it included the Thermal Infrared Sensor (TIRS). The TIRS is important for computing and mapping evapotranspiration (ET) or water consumption. IDWR is currently using data from Landsat 8 and is still using data from Landsat 7 which was launched in 1999 and has fuel to last until 2020. NASA and the USGS started working on Landsat 9 with a planned launch in 2020.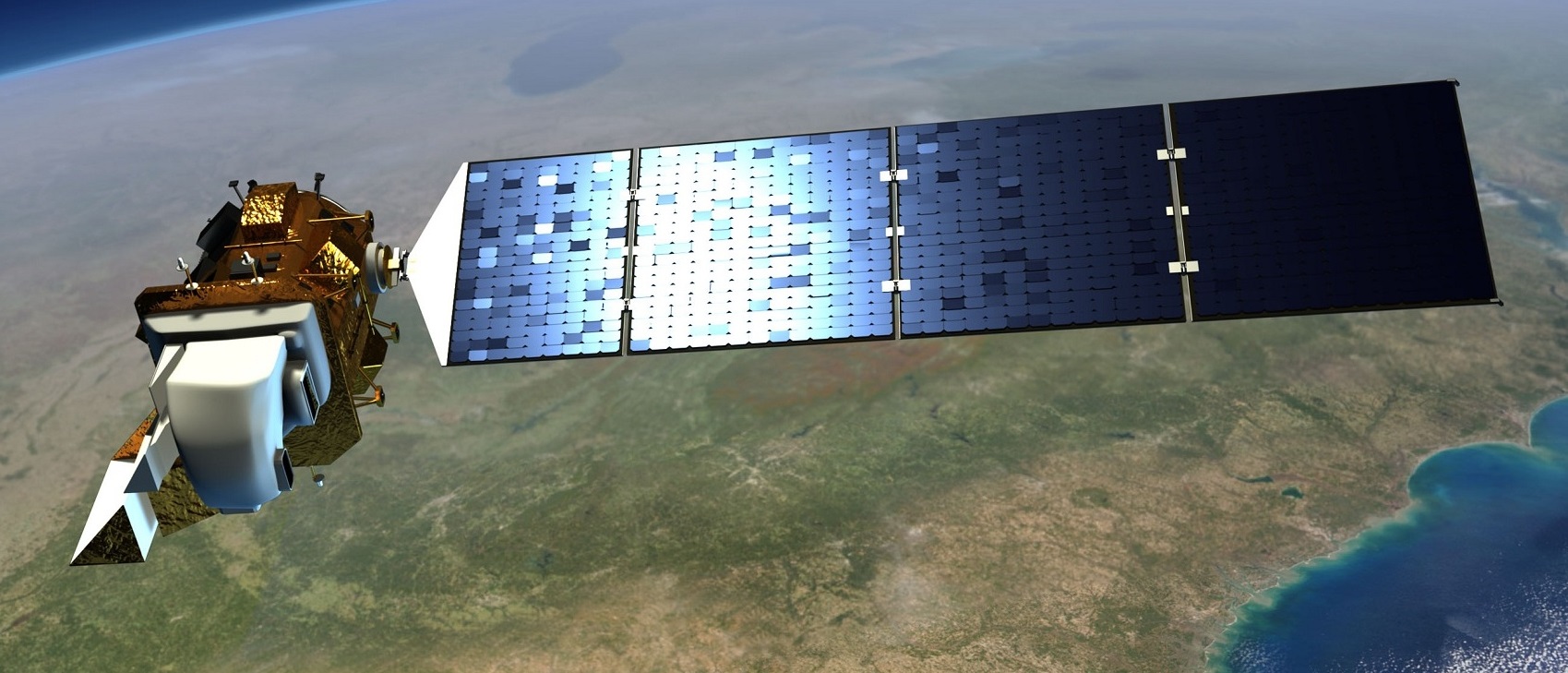 Landsat 8, Courtesy of NASA
The first Landsat satellite was launched in 1972, and in 1975 Idaho became one of the earliest users of Landsat. Landsat was used in the Snake River Basin Adjudication to develop irrigated land use maps and it has been used on an annual basis to monitor water rights in the Snake River Basin and other irrigated areas in Idaho. Landsat data is being used in the Comprehensive Reserve Enhancement Program to confirm the eligibility of lands for the program. Landsat is regularly used to develop maps of irrigated land that support groundwater models. IDWR relies on Landsat for these programs because it is an operational satellite providing imagery with resolution that allows observation and interpretation of individual fields, and it has a large archive for historical analysis.
IDWR began using Landsat for mapping ET in 2000. Landsat is the only operational satellite that provides high resolution images (30 meter by 30 meter pixel size) that can be used to compute and map ET for individual agricultural fields. This Landsat-based ET data is incorporated into water budgets that support hydrologic models and into water supply predictions for upcoming irrigation seasons. Water planners have used Landsat-based ET data for endangered species programs and for long-term supply and demand analyses. IDWR is frequently involved in legal proceedings related to the supply available to senior water right holders, and in a recent case, Landsat-based ET data were used to show water use information as a "legal finding of fact." In 2009, Idaho won the Innovations in American Government Award for its use of Landsat-based ET data for water administration.
IDWR has used Landsat data for over 30 years to help administer and manage Idaho's water resources. The 3.4 million acres of irrigated agriculture in Idaho accounts for over 98% of the water consumed. Landsat will continue to be important for Idaho because it is the only operational satellite that provides the detailed data, including a thermal sensor, necessary for water administration at the field level.
Historical Files
Date
Document
Author
Description
February 23, 2009
Explanatory Statement Submitted by Mr. Obey, Chairman on the House Committee on Appropriations, Regarding H.R. 1105, Omnibus Appropriations Act, 2009
Rep. David R. Obey, Chairman, Committee on Appropriations U.S. House of Representatives
Direction for NASA to spend $10 million on the development of a Thermal infrared sensor for the Landsat Data Continuity Mission
February 12, 2009
Letter to Senator Harry Reid
Richard Felling, Chief Hydrology Section Nevada Division of Water Resources
Request that NASA's budget be augmented in order to assure the continuity of Landsat thermal data
December 15, 2008
Letter to Senator Harry Reid
Allen Biaggi, State Engineer of Nevada
Request that NASA's budget be augmented in order to assure the continuity of Landsat thermal data
October 15, 2008
Section 205 of the National Aeronautics and Space Administration Act of 2008
H.R. 6063
Public Law directing NASA to plan for thermal data continuity on Landsat
May 5, 2008
Letter to Senators Byrd, Cochran, Mikulski, and Shelby
12 United States Senators
Letter signed by 12 U.S. Senators requesting $35 million be added to NASA's FY08 budget for a thermal sensor on LDCM
January 27, 2008
Letter to Senator Mark Udall
Harris D. Sherman, Executive Director, Colorado Dept. of Natural Resources
Request that NASA's budget be augmented in order to assure the continuity of Landsat thermal data
June 14, 2007
Letter to Support Landsat: A Critical Tool for Water Resource Management
Senator Ken Salazar (D - Colorado), Senator Mike Crapo (R - Idaho)
Letter signed by 9 U.S. Senators requesting $35 million be added to NASA's FY08 budget for a thermal sensor on LDCM
May 2, 2007
Letter to Senator Mikulski, Senator Stevens, Representative Mollohan, and Representative Frelinghuysen
M. Michael Rounds, Governor of SD; Dave Freudenthal, Governor of WY
Letter expressing the support of the Western Governors' Association for issues including thermal band on the Landsat Data Continuity Mission
April 19, 2007
Precious Resources: Water and Landsat's Thermal Band
Unknown
Article explaining the problem solved by Landsat's Thermal Band
March 2007
Annotated Bibliography - Landsat Thermal Band
Rick Allen, Martha Anderson
Annotated bibliography of peer-reviewed literature on Landsat-derived evapotranspiration and energy balance
February 2, 2007
Letter to Senator Harry Reid
Tracy Taylor, Nevada State Engineer
Letter requesting funding for a Landsat thermal band
January 23, 2007
Letter to Dr. Michael Griffin, NASA Administrator; Dr. Mark Myers, Director of the USGS
Landsat Data Continuity Mission Science Team
Unanimous recommendation for inclusion of thermal instrument on the Landsat Data Continuity Mission
January 18, 2007
Letter to Senator Larry Craig and

Letter to Senator Mike Crapo
Eastern Snake Hydrologic Modeling Committee
Letters asking that funds be appropriated to pay for a thermal imager on the Landsat Data Continuity Mission
September 14, 2006
Letter to Panels of the Decadal Survey of the National Research Council
Martha Anderson, Richard G. Allen, et al.
Letter with 117 co-signers explaining the need for a Landsat thermal band
September 13, 2006
Letter to Panels of the National Research Council Decadal Survey
Duane A. Smith Chairman, Western States Water Council
Letter supporting a thermal band on the Landsat Data Continuity Mission
September 12, 2006
Letter from the Western Governors' Association to Dr. John H. Marburger, Director of the Office of Science and Technology Policy
M. Michael Rounds, Governor of SD; Dave Freudenthal, Governor of WY
Letter expressing the support of the Western Governors' Association for a thermal band on the Landsat Data Continuity Mission
September 2006
NASA Earth Science Questions Addressed by High-Resolution Spaceborne Thermal Infrared Data
Dale Quattrochi
Discussion of how Landsat thermal data apply to 7 of NASA's 23 Earth Science Questions
August 11, 2006
Letter from the Wyoming State Engineer to the White House Office of Science and Technology Policy
Patrick J. Tyrrell
Letter explaining State of Wyoming's support for Landsat thermal band
August 2006
Critical Need for a Landsat Thermal Band
Richard G. Allen
Detailed justification for thermal imager aboard Landsat
June 2006
Water Needs and Strategies for a Sustainable Future
Western Governors' Association
Landsat thermal data are specifically identified in Recommendation 2A
February 28, 2006
Letter to Senator Michael Crapo
Richard G. Allen
On the importance of Landsat thermal data to Idaho
February 27, 2006
Letter from the Director of Idaho Department of Water Resources Re: Landsat Data Continuity Mission
Karl J. Dreher - Director, IDWR
Letter to NASA requesting thermal imager aboard LDCM
December 23, 2005
Landsat Data Continuity Strategy Adjustment
White House Office of Science and Technology Policy
Announcement for a free-flying Landsat
November 11, 2005
Water and Food Satellite System
 
A resolution supporting a fleet of food and water security satellites having TIR
March 24, 2003
Progress in utilizing space borne high resolution thermal radiometer in water resources research and management
Wim Bastiaanssen
European use of Landsat thermal data
1992
United States Code Title 15, chapter 82
United States Government
U.S. Land Remote Sensing Policy